Kalleske wines are certified organic and biodynamic, estate grown and vinified with traditional minimalist winemaking techniques used to fully capture the essence of the vineyard allowing genuine handmade estate wines to be produced.
No additives or fining agents are used in the winemaking process ensuring all wines are vegan friendly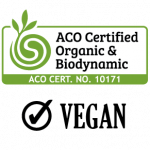 Kalleske Johann Georg Shiraz
Johann Georg Shiraz is a single vineyard wine produced from the oldest vineyard on the Kalleske farm, planted in 1875, that produces very low yields from gnarly, dry grown vines. The wine is a tribute to Johann Georg Kalleske, the first Kalleske ancestor to migrate to Australia from Prussia in 1838. The old vine fruit is open-top fermented, basket pressed and matured in new and used French and American hogsheads for two years prior to bottling. A powerful, but elegant wine of great sophistication showing flavours of dark berries, cured meats and savoury spice. The full-bodied muscular palate is rich and dense with finely textured tannins and fleshy dark fruit. A generous finish completes this magnificent wine that will benefit from a decade or more in the cellar.
Tasting Notes | Reviews | Bottle Image | Wine Label | Order

Kalleske Eduard Shiraz
Eduard is sourced from three vineyard blocks on the Kalleske property that were planted between 1905 and 1960. Vines are dry grown and produce low yields. It is named after Karl Heinrich 'Eduard' Kalleske who worked the Kalleske vineyards from 1853 until the 1880s. The old vine Shiraz blocks are open-top fermented, traditionally pressed and matured in new and seasoned hogsheads for two years prior to bottling unfined and unfiltered. Eduard is an intense, powerful and full-bodied wine exhibiting dense classic Barossa old vine Shiraz characters. Inky black fruit flavours abound together with harmonized tannins, subtle oak complexity a sturdy structure and great length. Eduard is a sophisticated wine of the highest calibre and is worthy of cellaring for many years.

Kalleske Old Vine Grenache
Old Vine Grenache is made from the oldest Grenache vineyard on the Kalleske farm, planted in 1935. The grapes are entirely dry-grown ensuring intensely flavoured fruit. Fermentation is warm in open-top fermenters with gentle hand pumpovers twice daily. After basket pressing the wine is matured in seasoned hogsheads prior to bottling. An intense, rich and robust Barossa Grenache with plenty of exotic flavours, a layered palate, harmonious balance and solid structure.
Tasting Notes | Reviews | Bottle Image | Wine Label | Order

Kalleske Buckboard Durif
Buckboard Durif is inky purple-black in colour. There are captivating aromas of blackberry jam, dark plum, sweet spice, fruit cake and chocolate. The palate is rich and full-bodied. Black fruits dominate. Toasty oak is evident adding complexity. Tannins are solid adding a muscular backbone and dry finish to this generous wine. Buckboard Durif can be enjoyed now, but best over the next decade.
Tasting Notes | Reviews | Bottle Image | Wine Label | Order
Kalleske Fordson Zinfandel
Fordson Zinfandel is rich purple-red in colour. Ascending from the glass are intense and lifted aromas of blackberry jam, jubes, clove spice, Christmas cake and a touch of choc-mint. The juicy palate is packed with succulent berry fruits, suitably restrained with fine but structured tannins. There are subtle oak maturation nuances adding further complexity. Energetic, harmonious and truly varietal, this medium to full bodied wine is very drinkable. Approachable and fruit forward, Fordson Zinfandel can be enjoyed now or over the next five years.
Tasting Notes | Reviews | Bottle Image | Wine Label | Order
Kalleske Dodger Tempranillo
Dodger Tempranillo is medium magenta-red in colour. The aroma displays lifted varietal Tempranillo characters of herbs, leather, earth and dried plum. Medium-bodied, the palate exhibits spice, crunchy red fruits and marzipan with subtle oak in support. The natural tannins are prominent adding defined structure and chewiness. There's a dry lingering finish to complete the wine. Dodger can be enjoyed now or over the next eight years.
Tasting Notes | Reviews | Bottle Image | Wine Label | Order











Kalleske JMK Shiraz VP
JMK Shiraz VP is a luscious fortified Shiraz grown and vintaged on the Kalleske family farm at Greenock in the North-Western Barossa Valley. This wine is dedicated to fifth generation grapegrower, John Malcolm Kalleske (JMK), who has tended the Kalleske family vineyards for more than 50 years. The vineyard for this special wine was hand pruned and harvested by John. JMK Shiraz reflects the dedication of John and the generations before him to the treasured Kalleske vineyard. JMK is a harmonious, soft and opulent wine that can be enjoyed now whilst young and vibrant however will strongly reward patience in the cellar for decades to come.
Tasting Notes | Reviews | Bottle Image | Wine Label | Order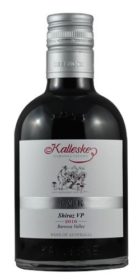 Biodynamic Barrel Project
---
Kalleske Biodynamic Barrel Project
Sustainability and ongoing environmental practices are at the core of Kalleske farming, grapegrowing and winemaking with all operations certified organic and biodynamic. As biodynamics is a fundamental part of our philosophy, it was a natural extension to explore the use of biodynamic barrels. The wine was sourced from our Kalleske Greenock Shiraz block consisting of shallow sandy loam over superb deep red clay providing ideal conditions for Shiraz vines. Following pressing of the grapes, we filled the same Shiraz wine to three different barrel types; fruit, root and flower according to the days of the biodynamic calendar. The Biodynamic Barrel Project comes as a beautifully packaged trio pack for you to judge the differences for yourself.
Tasting Notes | Reviews | Bottle Image | Wine Label | Order