Johann Georg Shiraz is a single vineyard wine produced from an ancient vineyard on our Kalleske estate at Greenock, in the North-Western Barossa Valley. As this wine is from the oldest vineyard on our Kalleske farm, it is a fitting tribute to name the wine in honour of the first Kalleske to migrate to Australia. Johann Georg Kalleske migrated from Prussia to South Australia in 1838 aboard the Prince George. Johann's descendants now meticulously tend the Johann Georg vineyard planted two centuries ago. An amazing wine, produced in tiny quantities and destined for long term cellaring, Johann Georg Shiraz is truly something special.
The Johann Georg vineyard is oldest vineyard on the farm and the flagship of the Kalleske Property. A low-yielding one-hectare vineyard block planted in 1875, producing very low yields of around one tonne per acre from old, gnarly, dry grown vines. The soils are sandy with traces of quartz and ironstone over clay. The 'ancestor vines' (aged 125+ years) are hand-pruned and hand-harvested. Traditional open-top vinification is followed by gentle basket-pressing and maturation in new (50%) and seasoned French and American oak hogsheads. The rich and voluminous Johann Georg Shiraz is a classic Barossa style with dark berry and chocolate aromas and flavours, dense tannins and underlying elegant classy oak.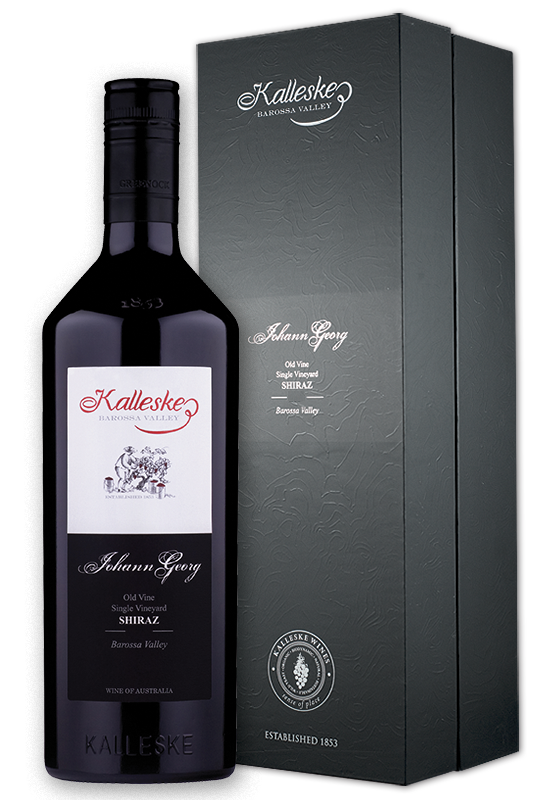 "This is the poster child for the merits of biodynamically grown fruit, with bright, ebullient flavours and heady aromas leaping from the glass"

Halliday Wine Companion Magazine, Feb/Mar 2021
The Johann Georg vineyard is the flagship of the Kalleske farm. It is the oldest vineyard on the Kalleske property and is fittingly named after the first Kalleske ancestor to migrate to Australia. Johann Georg was born in Brätz, Prussia in 1794 and migrated to South Australia with his wife and children in 1838. This vineyard was planted in 1875 and produces very low yields of around one tonne per acre from old, gnarly, dry grown vines.
Vineyard Age: Single Vineyard  planted 1875
Location: Moppa
Area: 2 acres
Yield: 0.75-1.25 tonnes/acre
Barossa Classification: Ancestor vines (>125 years old)
Grape characteristics: Strong textural aspect with intense, fine tannins and flavours of black fruits, savoury roast meat and black olive.
Elevation: 334 metres
Soil composition : Sandy top soil with traces of quartz over excellent clay subsoil
Aspect: East
Trellising: Single Wire Cane Pruned
Vineyard management practices
Certified Organic & Biodynamic
Hand pruned
Dry grown
Biodynamic compost and green-manure cover crop used mid-row
Hand picked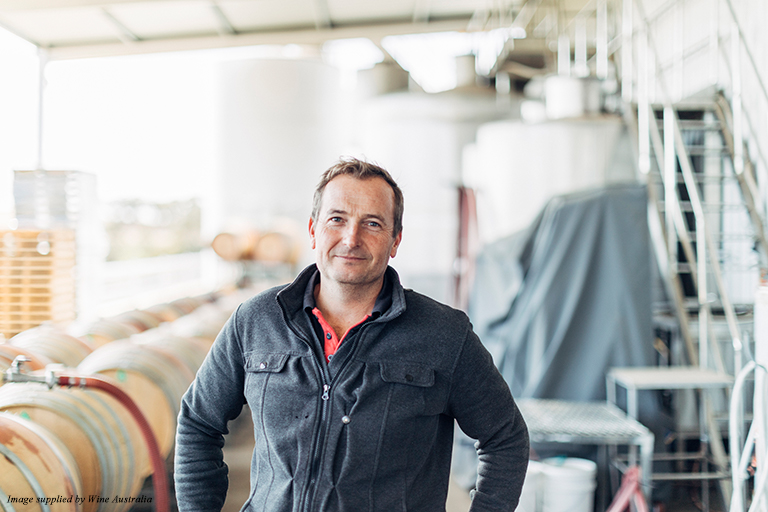 Troy Kalleske, is a seventh generation Barossan whose family has been growing grapes since 1853. Troy grew up amongst the vines and from a young age was grape-picking / pruning the vines planted by his great-great-great grandfather many years earlier.
Following Graduation from the University of Adelaide in 1999, Troy was part of the winemaking team at Penfolds, Veritas, Seppelts, Miranda, Lindemans, and Kendall-Jackson.
In 2002, after 149 years of farming and grape-growing by the Kalleske family, Troy took the next step and established the Kalleske winery. It is here where Troy hand crafts Kalleske wines.
Since releasing his own wines, Troy has rapidly gained national and international recognition as one of the Barossa's and Australia's best young winemakers. Troy has received numerous accolades with one of the most prestigious being the "2008 Barossa Winemaker of the Year" title awarded by the Barons of Barossa.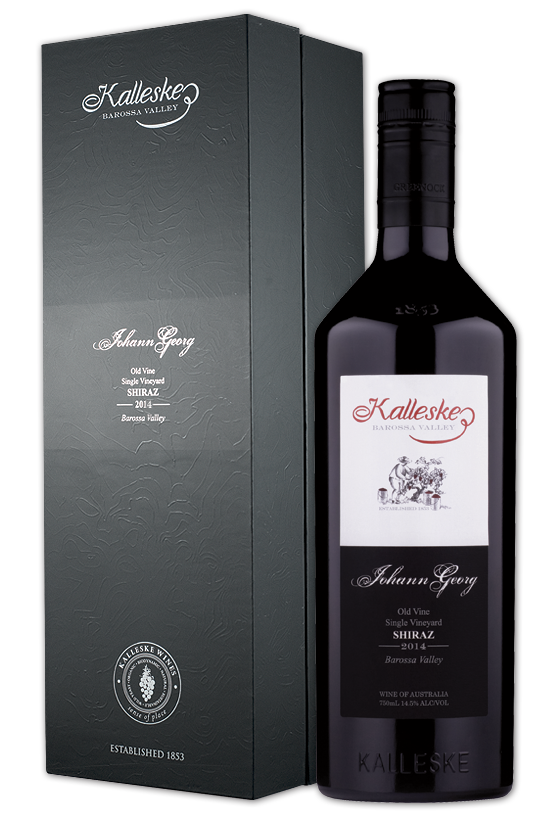 "Kalleske Johann Georg Shiraz is one of the oldest surviving vineyards in the Barossa and Australia.  It is the oldest certified organic/biodynamic vineyard in the Barossa and perhaps Australia.  This natural way of farming these ancient vines, combined with dry-growing, hand-pruning and traditional minimalist techniques in the winery including native yeast fermentation means this wine is genuinely unique.  It truly represents the time (vintage) and place (soil/location) where it is grown as well as expressing a living history of Barossan and Australian wine growing."
Troy Kalleske, Winemaker
Post picking
Following picking the grapes are immediately transported to the on-site winery and within a few hours of harvest they are being processed.  No additives (sulfur etc) are added to the grapes.  The grapes are destemmed and gently crushed into a small open-top fermenter.
Pre-fermentation
The must is not inoculated at all and no sulfur, enzymes or tannins are used.  It is held at ambient temperature with natural pre-ferment soaking until the indigenous native yeast begin the fermentation.
Fermentation
The must is entirely wild yeast fermented.  Fermentation on skins is for 8-14 days where hand pumpovers are employed twice daily.   Ferment temperature ranges up to 30 degrees C prior to cooling back to 22 degrees C.  Must is gently pressed with free-run and pressings immediately combined at pressing.
Maturation
Following pressing the wine is filled to new (typically 50%) and seasoned French oak hogsheads.  The wine is matured in barrel for 2 years prior to bottling.  Extra tight 3 year seasoned French oak is chosen to show utmost respect to the fruit.  Two years allows the wine to mature and develop complexities whilst still maintaining vibrancy.  The wine is racked from barrel and bottled without any fining agents used and is non-filtered.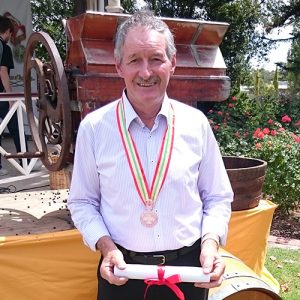 John Kalleske
John is a proud sixth generation Kalleske and together with wife, Lorraine, is the owner of the Kalleske farm and vineyards. John has been growing grapes and farming the land for close to half a century and was intrumental in achieving the initial and ongoing organic and biodynamic certification for the vineyards and farm. John has always strived to achieve the highest quality from each block and is always looking at new ways to better manage the vineyard along with his Son Kym. In 2015 John was awarded the prestigious accolade of 'Barossa Vigneron of the Year' awarded by Barons of Barossa.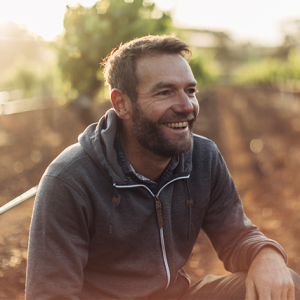 Kym Kalleske
Kym has continued the Kalleske family tradition and followed in his previous generations footsteps by becoming a fellow merchant and miller. Kym is an integral part of the Kalleske vineyard and farm, managing day to day operations in conjunction with his Father, John. Kym has almost three  decades experience tending the vineyard. Kym has been instrumental in the success of the vineyard and diverse farming enterprises, including cropping, organic Dorper Lamb, Black Angus Cattle and the commercial chaff mill combining traditional and modern agricultural practices.
98 Points
"One of the most impressive wines I tasted on my trip to South Australia was the 2016 Johann Georg Old Vine Single Vineyard Shiraz, named for the first Kalleske to arrive in Australia back in 1838. The dry-grown vines were planted in 1875. It offers a tremendous mix of berries on the nose and palate, ranging from red raspberries to the darkest currants, and delivers them all with great intensity. Full-bodied, concentrated and creamy-textured, it finishes long and plush. Accessible now, it should possess 20 years of evolution."
Joe Czerwinski, Robert Parker.com, September 2018 – Vintage 2016
Bio Wine of the Year Trophy
Double Gold Medal

2015 China Wine & Spirits Awards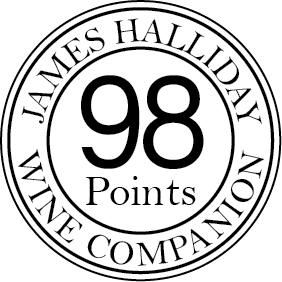 98 Points
"This wine sits unchallenged at the head of the Kalleske shiraz tree. The grapes were treated with the care and attention they deserved in a small open fermenter for 12 days using a heading down screen that submerged the cap, pressed to French hogsheads (new and used) for 2 years. It's got a juicy, supple mouthfeel with an unexpected lightness and finesse".
James Halliday, Halliday Wine Companion, August 2020
97 Points
"This has instantaneous appeal, its mouthfeel gently velvety, the flavours of perfectly ripened blackberries, plums and licorice, oak and tannins soing no more than provide respectful support. A lovely old vine wine that rose above the tribulations of the 2014 vintage".
James Halliday, Halliday Wine Companion 2018
97 Points
"This vineyard was planted in 1875. This wine is literally painful with the intensity and complexity of its unbridled black-fruited assault on the palate. You could write 100 words describing the aromas and flavours, the next person writing the same length, equally valid, but having nothing in common with the first description. Kalleske offers 13 specific flavour descriptors threaded through different, more general, observations".
Halliday Wine Companion 2017
98 Points
"Spectacular colour. A super saturate or black purple with a black heart and very deep black crimson hue showing superb glass cling. Perfumed aromas reveal lifted top notes of violets and blackberry followed by some dark plum, liquorice and confectionary. The palate is an explosive flavour experience framed by perfectly integrated, silky smooth tannins. A Profound Barossa Shiraz".
Nick Wine Merchants, Vintage Direct newsletter, August 2010
95 Points
"If this wine had the word Penfolds on the front label it would be sold at three times the price. If you like Barossa shiraz, Kalleske Greenock Shiraz should sit in the centre of your sights. Another stunner under this label. So smooth, so rich, so grunty, so substantial. It's a wine of warm, inky depths and long, fruit-drenched tannin. Vanilla cream, blackberry, saturated plums and cloves. A mouth-filling red, done terrifically well".
Campbell Mattinson, The Wine Front, October 7 2016
Excellent Classification: Langton's Classification of Australian Wine
"The family of first-generation settler Johann Georg Kalleske Shiraz established a mixed farm at Greenock in 1853… The substantial, 120-acre vineyard, organic and biodynamic, with an average vine age of 50 years, is now regarded as one of the region's great 'grower' vineyards. It has been a key source for many extraordinary Australian wines, including Penfolds Grange… The 'ancestor vines' (aged 125+ years) are hand-pruned and hand-harvested…The rich and voluminous Johann Georg Shiraz is a classic Barossa style with dark berry and dark chocolate aromas and flavours, dense chocolaty tannins and underlying mocha oak".
"THIS is the flagship of the Kalleske family's Barossa Valley operation and it's a feast of a red that weighs in at 14.5 per cent alcohol. It is inky purple and has scents of cassis, bay leaf and dried cranberries. Lush, ripe black plum flavour rolls onto the front of the palate and blackcurrant, licorice and peppermint chocolate fruit characters marry with cedary oak on the middle palate. Dusty tannins come through at the finish".
John Lewis, May 28th 2014
96 Points
"…. the Johann Georg has emerged as one of the Barossa's most impressive reds. It comes from vines well over a century old that return rich and concentrated fruit flavours. There is a mix of berry and plum fruit that is enhanced by meaty and earthy characters, plus a touch of spice. Although having plenty of grunt, it retains softness and elegance. The tannins are fine and integrated, with the oak complementing the fruit and building complexity. A long-lasting finish completes a top-class package…"
Mike Burnett, Launceston Examiner, April 15th 2013
James Halliday's 20 Great Reds
"From a single block of vines planted in 1875, and made in a very small quantity… It is very complex and intense, yet little more than medium-bodied, having a tapestry of aromas and flavours similar to Eduard, with great length. How great will the '10 be?"
James Halliday, Australian Wine Companion 2013