WORDS & PHOTOGRAPHY ALICIA LÜDI-SCHUTZ
PUBLISHED IN THE BAROSSA MAG SUMMER 2022/23 – CLICK HERE TO VIEW THE ARTICLE
Since 1853, the Kalleske family has continually farmed land on the outskirts of Greenock.
Seven generations have contributed to the property, all following in the footsteps of Eduard and Rosina Kalleske who planted the first vines, some of which still grow today.
With 125 acres of vineyard covering 400 acres of land, it's a picture-perfect landscape that surrounds the homestead where current custodians, John and Lorraine raised their four children.
John says he knew he was destined to continue the family's farming tradition.
This is the heartland of Kalleske Wines – the oldest estate grown, certified organic/biodynamic vineyard and winery in the Barossa.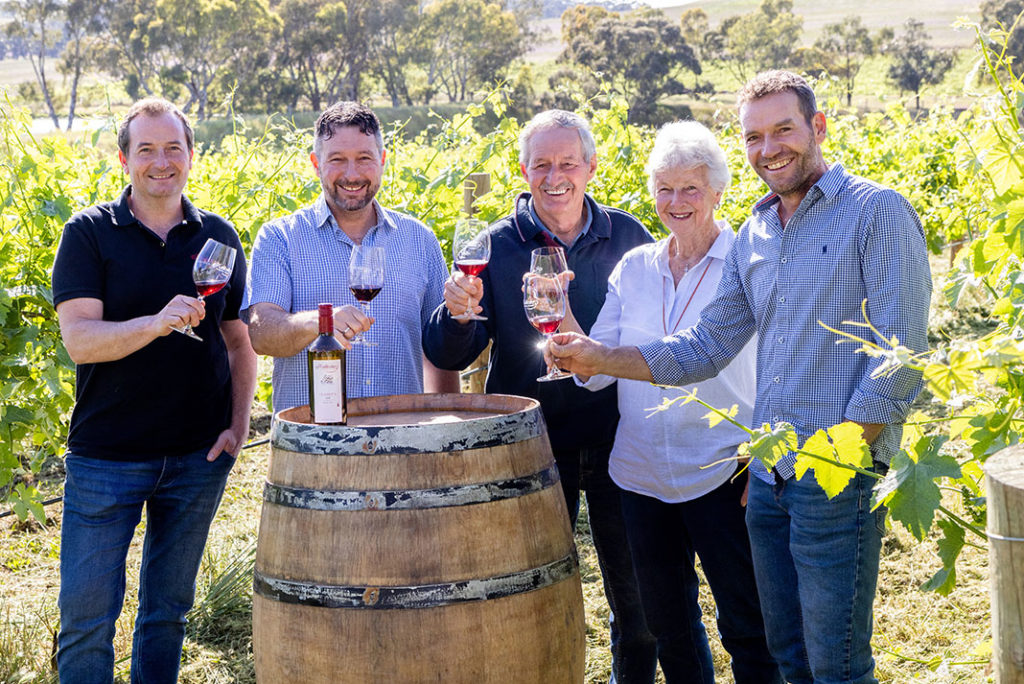 It's here we find John, Lorraine and their sons, Tony, Kym and Troy reflecting on the lifestyle and business opportunities the property has provided them.
"I only did one year at Nuriootpa High School. I turned 14 and just couldn't wait to leave and come home to work!" laughs John.
Yet he admits to feeling "disillusioned" when it came to using chemicals.
"We had never used chemicals in our vineyard, but on the farming side we were," John says.
"Maybe it was psychological, I don't know, but every time I had to spray the land, I would get a headache.
"So, I started thinking outside the square and looked into alternatives.
"In the mid 80s we started experimenting with biological methods. It was pretty hard going because there wasn't a lot of information out there at that stage.
"Even when we found an organic workshops or seminar, there were hippies around every corner!"
Yet that didn't deter John and Lorraine from seeking knowledge and putting it into action.
"We started having success," John continues.
"We had a block that made Grange more consistently than the others and when we did soil tests, that block had the most balanced soil on the farm.
"We addressed the situation on the whole property and added what we needed to bring the soil into balance.
"After we went down that path, we really started noticing the improvement.
"It's similar to human health….if you are eating a good diet, you have a strong immune system and your body is healthier.
"Then we thought because we had gone as far as we could on the organic side, why not use biodynamics as the kind of pinnacle of organic? We started that in the late 90s.
"I suppose we were ahead of our time. It's much more of an 'in thing' now.
"But I always say, if you are going to do it for the money, just forget it. It's got to be in the heart."
And "in the heart" it is, with middle son, Kym sharing the same passion and joining the farming operations in 1989.
"I finished Year 11 though!" laughs Kym with a cheeky grin directed at his dad.
Mechanically minded like his father, he enjoys managing soils and growing organic crops, tending to vines and ensuring livestock have the best life through holistic farming practices.
"We planted a lot of vineyard in the late 90s. That's when we really started expanding," Kym says.
"Because we were organic, we found our under vine weed growth was increasing as the soil was improving.
"We were using a locally made dodger and doing half a row at time.
"It just didn't cut it – it was too slow and too time consuming. So, we developed our own equipment to handle the extra acreage more efficiently."
Meanwhile eldest brother, Tony, who had a successful career working in the recruitment industry, was in discussions with his little brother Troy, a talented winemaker employed at Penfold's.
The two were hatching a plan to combine their family's talents by making and selling "Kalleske Wines" using the fruit grown on the farm.
"Tony and I decided to talk to Dad, Mum and Kym to see if we could get a few grapes and start making wine ourselves," Troy explains.
"I live over the hill just here in the back corner of the property, so we started off in my shed in 2002 with a fairly basic setup," adds Tony.
Both continued to work full time, working evenings and weekends to achieve their ambition.
"Two years later, we started selling our wine and making more…. I left my job and made making Kalleske Wines my fulltime gig. Tony came in full time a year after that," Troy says.
After outgrowing two sheds, a large hay shed on the farm was re-purposed into the winery that stands today.
Then, in 2013, Tony and Troy opened a cellar door alongside their office in Greenock.
"Troy spends most of his time at the winery. He's production focused," explains Tony who spends most of his time at the office. "He gets it into bottle, then I take it to the big wide world!
"Mum, Dad and Kym do what they do best, which is farming and growing grapes and we don't interfere in that side of things.
"It's all very complementary, but separate at the same time, and it works very well."
Lorraine says Kalleske Wines' point of difference is "the grapes are grown with love", especially now every berry they harvest ends up in a bottle bearing the family's name.
And with 13 grandchildren, including Dylan who recently completed studies in oenology and viticulture, she is confident the Kalleske tradition is in good hands.
The choice to rid the farm of chemicals and go organic/biodynamic is not only bearing fruit, but also gaining international recognition.
John can't help but feel a little chuffed.
"The 2011 Clarry's GSM won the trophy for Australia's Best Red Wine and the trophy for the World's Best Biodynamic Red Wine at the London International Wine Challenge and that's from a vintage regarded as the worst ever for the Barossa," he says.
"It does make you feel like you are doing something right when you can achieve that."